Experience an Incredible Waterfall Tour 1 Hour from Downtown San Diego!
Just outside of San Diego exists a spectacular waterfall adventure in a beautiful forest. Rivendall Falls flows mightily from the mountains dropping like a hammer through the quiet forest before turning into a babbling brook that cascades over the rocks further down the Elvyn River. You will hike through pine forests, descend into a beautiful canyon and hike on, in and around Rivendell Falls.  We will picnic on majestic rocks and soak in nature at its finest and most serene.  Join us and experience one of San Diego's most amazing adventures.  Text 619-987-2341 or email [email protected] to book your tour now!
On this tour you will
Hike though lush forest and pines
Hike in, on and around Rivendell Falls
Follow the Elvyn River down a quiet path to a secret location for a picnic (food and drink provided by us!)
Swim in the falls or just dip your toes in if you prefer
Hike back to the starting location and be back in San Diego for dinner!
Have a really cool movie trailer made of your experience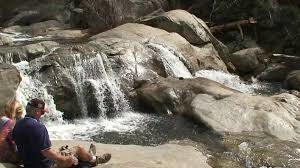 What will I See?
EPIC SHIT!
Tour Length:
Hiking: 3-4 hours
Running: 2-3 hours
Tour Difficulty:
Easy-Moderate (link to hiking difficulty calculator)
Transportation:
Driving time is 1 hour  from Downtown San Diego.  There is no easy public transportation access.  Once your tour is booked a map link will be sent to you.
What you Need:
water
hiking or running shoes
proper clothing (check this link for weather in the location)
Cost:
$77 per person (2 person minimum) or $300 per group (over 4) + $10 per person. Tips and transportation not included.  Send me an email [email protected] and tell me how many people are coming on the tour and if you need transportation.  I will give you an exact price and send you an invoice.
Refunds:
There are no refunds.  Once the tour is booked the time is allocated to you.  Tours cancelled by the tour operator will be refunded 100%.  Tours may be subject to change due to extreme weather or unsafe conditions.
Questions?
email me [email protected] I check emails daily.